Tucker Carlson is open to playing GOP candidate wrangler for a debate, but the Republicans would have to be down with the parameters he'd demand … TMZ has learned.
In case you missed this week's debate, Vivek Ramaswamy gave a full-throated endorsement for Tucker to moderate a future Republican debate, predicting it would spark a major ratings boost.
Well, sources with direct knowledge tell us … Vivek has personally verbalized this wish to Tucker himself, and while the former Fox News firebrand likes the idea of doing it — he's not keen about doing it on a traditional TV network.
We're told Tucker actually spoke to GOP officials about the role back in the summer, after Fox News let him go … but he didn't want to fall back in with corporate media, which he thinks is all buddy-buddy with the RNC.
So, the only way Vivek's dream will come true is if the party approves the debate airing exclusively on X. Obviously, Elon Musk would love that, but our source adds the real benefit for the RNC could be finally landing Donald Trump … who's been absent from previous debates.
The feeling is Tucker's involvement might prompt Trump to participate.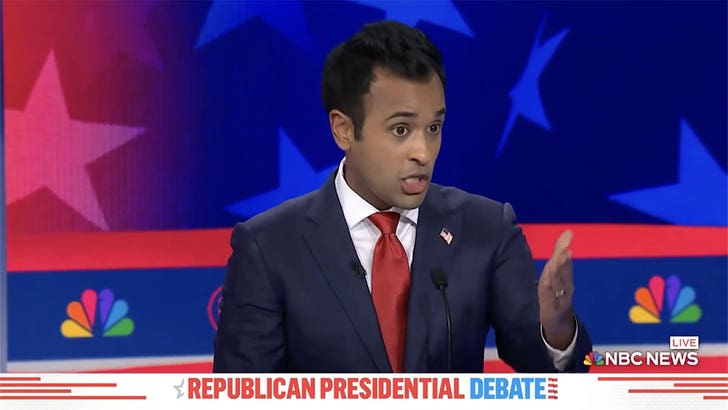 11/8/23
NBC News
Tucker's potential involvement came about after GOP candidate Vivek took aim at NBC's Lester Holt, Hugh Hewitt, and Kristen Welker during Wednesday night's third battle of Republican candidates.
As it turns out, the journalists got off easy … relative to Ramaswamy's attack on Nikki Haley, who he called "Dick Cheney in 3-inch heels."
In other words, exactly the kind of discourse Tucker Carlson would love to join!